We repair and service JFY inverters!
If you're experiencing problems with your JFY inverter, or it's time to get it serviced, you only need to make one call.
National Solar Service is your one stop shop for APS inverter repairs and service. We guarantee honest advice and quality workmanship so that you can get back to enjoying solar power sooner.
---
JFY models we service:
JSI 1500-6000
Suntwins 3300TL-5000 TL
Suntree 5000TL- 20000TL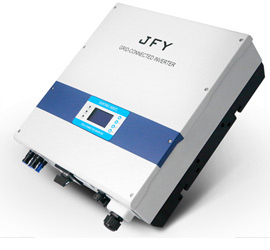 Can't find your inverter here? Get in touch with our friendly service team and we'll let you know how we can help.
---
JFY inverter repairs
JFY inverters are a complicated piece of equipment so it's essential that they are repaired by Clean Energy Council Accredited Electricians.
At National Solar Service, we use a thorough JFY inverter service procedure to ensure your inverter is repaired quickly, correctly and in the most cost-effective way.
In most cases, after our specially-trained technicians visit your property and inspect your inverter, they will source replacement parts from the manufacturer, repair the faulty parts themselves or recommend a new inverter should that be a more cost effective solution.
In any situation, we'll put your inverter through a number of performance and safety tests before it's signed off and returned to duty in your home.
While strict safety and labour standards keep the quality of our repairs high, National Solar Service national coverage and strong manufacturer relationships keep prices down.
---
About National Solar Service
National Solar Service is Australia's leading consolidated solar energy company, delivering high-quality and affordable solar energy solutions across the country. With a strong and comprehensive network of offices, National Solar Servicee team is dedicated to helping Aussies enjoy solar power for the life of their system.
---
Find out more
Call
1300 360 700
to talk to one of our friendly technicians about
service and repairs
for your JFY inverter.
Alternatively, you can request a service online, by filling out the enquiry form below.