Background on Latronics Inverters
Latronics inverters are manufactured in Queensland, Australia. Although they only deliver fairly basic capabilities, they are still a reliable and effective unit. Latronics inverters were first installed in Australia around 2009. Their early models of PVEdge inverters include:
APS models we service: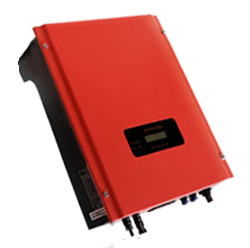 Although they had a standard three-year warranty, some models purchased in 2010 carried a five-year warranty under a special promotion that was offered at the time.
---
How to monitor your inverter's performance.
Latronics inverters are grey in colour. On the face of the unit there are four lights on the left and a display screen and DC breaker on the right. This small screen is used to monitor your inverter's performance by displaying an accumulative total in kWh.
Potential Latronics inverter faults:
Issue: Unit fails to light up
Cause: Possible fault in internal DC breaker or fuses blown.
Issue: Flashing 5-/75% light (with 25% light off)
Cause: Possible issue with the solar supply main switch in the meter box.
Issue: Under producing e.g only outputting 25% even in the middle of summer.
Cause: Potentially fuses blown on the roof.
---
How do I make a warranty claim?
Faulty Latronics inverters that are within their warranty period can be replaced. However you should note that you will only be covered for the cost of the unit itself. Any additional labour costs to remove the original inverter and install the replacement inverter are not covered.
If you need help removing the faulty inverter and sending it back to the manufacturer as part of a warranty claim, contact us to organise an inverter health check (metropolitan single story house) and we'll take care of it.
---
What if I'm no longer covered by warranty?
If the warranty period on your Latronics inverter has expired, we recommend you contact us to organise an inverter health check. One of our experienced technicians will identify and attempt to fix any faults and replace any fuses that have blown at no extra charge. If your DC circuit breaker needs replacing we can do that too, at an additional cost of $90.
If your inverter is beyond repair, we also offer refurbished Latronics inverters that come with a 12 month warranty. 1.2 kW models are available for $660, while 2.5 kW models are available for $880.
Otherwise, you can choose a new Latronics inverter which comes with a three year warranty. The 1.2 kW model costs $1200 and 2.5 kW model costs $1600. Bear in mind that if you replace your Latronics inverter with a different brand of inverter, you need to consider the following points:
Your feed-in tariff may be affected if you change the inverter capacity.
You may need to pay additional labour fees to re-wire your panels from a parallel set-up to be in series.
---
About National Solar Service
National Solar Service is Australia's leading consolidated solar energy company, delivering high-quality and affordable solar energy solutions across the country. With a strong and comprehensive network of offices, National Solar Service team is dedicated to helping Aussies enjoy solar power for the life of their system.
---
Find out more
Call
1300 360 700
to talk to one of our friendly technicians about
service and repairs
for your Latronics inverter.
Alternatively, you can request a service online, by filling out the enquiry form below.