Omnik inverter repairs and service
If you need your Omnik inverter repaired, or it's time to get it serviced, you only need to make one call. Service My Solar is your one-stop shop for Omnik inverter servicing and repairs. We guarantee honest advice and quality workmanship so that you can get back to enjoying solar power sooner.
Omnik models we service:
Omnik is a Sino-German joint-venture company combining German technology and Chinese manufacturing.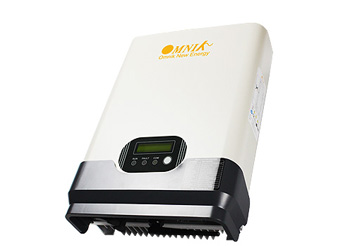 They offer a range of products including a single phase and three phase inverter – the OmnikSol – which comes in sizes 1.5 kW -5 kW, a micro inverter, and a hybrid inverter.
OmikSol TL-m
OmnikSol TL-2
OmnikSol 3Phase TL-2
OmnikSol micro inverters
Can't find your inverter here? Get in touch with our friendly service team and we'll let you know how we can help.
---
Quality repairs, competitive price
Modern APS solar inverters are a complicated piece of equipment and so it's essential that they are repaired properly.
At National Solar Service, we use a thorough Omnik inverter service procedure to ensure your inverter is repaired quickly, correctly and in the most cost-effective way.
In most cases, after our specially-trained technicians visit your property and inspect your inverter, they will source replacement parts from the manufacturer, repair the faulty parts themselves or recommend a new inverter should that be a more cost effective solution.
In any situation, we'll put your inverter through a number of performance and safety tests before it's signed off and returned to duty in your home.
While strict safety and labour standards keep the quality of our repairs high, National Solar Service national coverage and strong manufacturer relationships keep prices down.
---
Omnik inverter common faults
Certain types of faults can be indicative of an external cause rather than an internal inverter failure. Examples are Isolation Fault, Utility Loss and Vac Failure. If you encounter any of these faults, you may need to book a health check in order to eliminate external causes. Prior to contacting National Solar Service, you should check that your solar supply main switch (usually located in your main board or sub-board) is in the "on" position.
---
Omnik inverter warranty claims
Omnik offers a 5-year standard warranty, which can be extended to 25 years. Although they still honour their warranties, customers often experience lengthy wait times in receiving the replacement stock. To speed up the process, please contact us with the serial number located on the inverter, the fault code being displayed on your inverter, and the installation date. You will need to be prepared to send proof of purchase and photos of the inverter if requested.
If your Omnik is out of warranty, we recommend booking in for a health check so we can try to repair it on site. If we are unable to repair it, then we will bring a replacement option to avoid extra site charges.
---
About National Solar Service
National Solar Service is Australia's leading consolidated solar energy company, delivering high-quality and affordable solar energy solutions across the country. With a strong and comprehensive network of offices, National Solar Service team is dedicated to helping Aussies enjoy solar power for the life of their system.
---
Find out more
Call
1300 360 700
to talk to one of our friendly technicians about
service and repairs
for your APS inverter.
Alternatively, you can request a service online, by filling out the enquiry form below.