We repair and service Sunna inverters!
If you're in need of Sunna inverter repairs, or it's time to get it serviced, you only need to make one call. National Solar Service is your one-stop shop for Sunna inverter repairs and service. We guarantee honest advice and quality workmanship so that you can get back to enjoying solar power sooner.
---
Sunna models we service:
Sunna 1500TL
Sunna 2000TL
Sunna 3000TL
Sunna 4000TL
Sunna 5000TL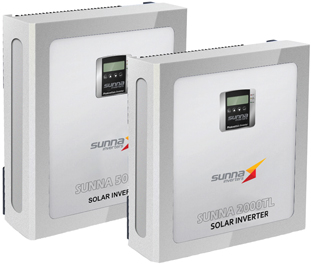 Can't find your inverter here? Get in touch with our friendly service team and we'll let you know how we can help.
---
Sunna inverter common faults
Er22: Relay Failure
Our recommendation is to replace the inverter.
---
Dead: Possibly Repairable
As there is no fault information, it's hard for us to identify the nature of the issue. Therefore, we would attend, investigate and repair if possible or replace if not.
Er11/AL00/Al01/AL02AL03
These mean that the AC condition is outside the range allowable at the inverter (eg. your grid voltage). On some meters, you can actually check the voltage: use the scroll button on your power meter until, on the left hand of the screen, a "U" appears. To the right hand side, the number will be your voltage. Ideally, this should be 255 volts or lower. If this fault is permanent, you should book a health check, as the internal fuse or AC board internally may be damaged.
Er10: Inverter Over Temperature
The manual recommends moving the inverter to reduce the ambient temperature.
AL08/AL13: Utility Issues
The first thing to check is the solar supply switch usually located in your main switch board or sub-board. If it is on, it could be an issue with one of your isolators. Otherwise, like the AC faults, it could signify an internal fuse or AC board being damaged. This type of faults can be indicative of a surge as well, so, if you have had a storm or blackout, this could have been the cause. Depending on your home insurance policy, you might even be able to claim it. We can assist you in verifying this and provide a report if eligible as part of our inspection.
All11: Isolation Fault
This can mean that there is water in the top box or elsewhere in the installation. We would recommend a health check with a provision for a replacement.
---
Sunna inverter repairs
Sunna inverters are a complicated piece of equipment so it's essential that they are repaired by Clean Energy Council accredited electricians.
At National Solar Service, we use a thorough Sunna inverter service procedure to ensure your inverter is repaired quickly, correctly and in the most cost-effective way.
In most cases, after our specially-trained technicians visit your property and inspect your inverter, they will source replacement parts from the manufacturer, repair the faulty parts themselves or recommend a new inverter should that be a more cost effective solution.
In any situation, we'll put your inverter through a number of performance and safety tests before it's signed off and returned to duty in your home.
While strict safety and labour standards keep the quality of our repairs high, National Solar Service national coverage and strong manufacturer relationships keep prices down.
---
Sunna inverter warranty claims
Even though these were sold with a five-year warranty, there is no longer warranty support if you have this inverter installed.
We recommend booking a health check. If we can repair it for this price, then you'll be up and running. However, we will also bring with us some replacement options so that, if it isn't repairable, you can still be up and running on the day and don't have to pay multiple site visits.
---
Find out more
Call
1300 360 700
to talk to one of our friendly technicians about
service and repairs
for your Sunna inverter.
Alternatively, you can request a service online, by filling out the enquiry form below.